Impatience (in a mood)
Light speed is within reach. And, someone wants to sell it to me. First, it's $12,000 – $18,000. Next, it's $19,000. When stripped down, it's really $9,000. But when I still won't bite, it's $12.95 per month. "Okay, let me know. That's our best offer. You get the community and our weekly group calls."
This is to make me famous. Well, not exactly. See, it's a scam. I already know this going into the phone call. The pitch "Become a Bestselling Author on Amazon." It's easy.
This dude (he keeps calling me "bro") is very sure that he can make my future trajectory one of massive growth and success. "I'm taking some notes here, and I'm going to see if I can get, Cat, personally on your program. This is really her thing. Do you want to give TED Talks and stuff? Speaking at universities?" I'm sure my face spoke for me. "I mean, Cat is at Stanford right now, today."
"Okay, I've got another call in a few minutes, but let's recap."
"It's okay, I think I've got it."
I'm going to send you the Amazon Elite Plus Marketing program today. I'll get the email out today. Did I mention the billboard in Times Square? Cat's got 24 18-second spots across the day, and we could get your book in there."
"I'll look for the email, thanks."
And I go into Costco with $165.73 in credit and I do one quick circle and I'm out. Whole Foods in nearby, so… And nothing. All the drivers on my way back home are either retarded or just slow. My turbocharger appears to be stuck on in my brain. I want it so bad, I can taste it in this first weekend of spring.
There is no easy way out of here.
~~~
I won't ever hear back from Cat on this LinkedIn chat.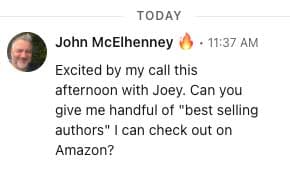 Read more Short-Short Stories from John.