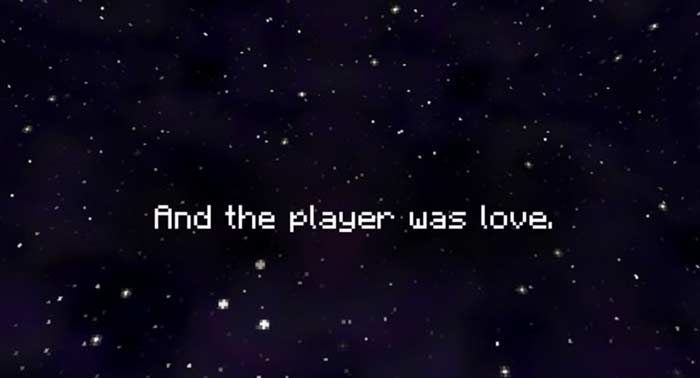 And the player was love. (meta meta meta)
End of Minecraft. Poem. Player or citizen.
The layers of meta piled up until he lost the story completely. Layer one: writing a short story about poet friend gone quiet. Layer two: message back from poet friend, lingual, but not verbal. Layer three: tapping out short stories one after the other. Layer four: memes keep me awake at night. Layer five: Minecraft was a starting point for my son to enter the world of his exploding mind. A salvation of sorts. A rally point for a driven young man, 7th grade, told his entire life that "gaming" and "games" were bad. There was shame attached to the message somewhere preventing my son from initially accepting my offer to set him up on Minecraft.
Weeks later, he would be screaming his head off at his crew. Command voice was the only way to cut through the chatter. A newly empowered ragged band of 7th graders, more inclined to yell at each other from their dim bedrooms in a fantasy world than to "meet at the mall" or "go outside." Offline was death. Offline was chores, homework, sports, and attending school. Online was power, energy, wealth, and adventure. Online was community. Offline was lame.
Layer seven: dad writing about son who estranges himself. Puffs of vapor, pills of enlightenment, and struggles of Sysifian proportion appear to be the problem, as transmitted in bi-monthly responses to a series of well-imagined, well-intentioned messages from a dad in need.
Where did six go? I knew you'd ask that. Six was so awful I can't share it.
Layer eight: bored, hungry, and slightly impatient for this story to wrap up. (What story?) I think Vonnegut has infected my idea of prose. Ho hum, and all that.
Right. Time now for time to pass without words for a beat.
Layer nine: gramer.ly loses her mind over my prose and even worse over my poems.
And the player was love.
Read more Short-Short Stories from John.